Installing Solar Since 1983
License Number 773985
Disconnect Locking Policy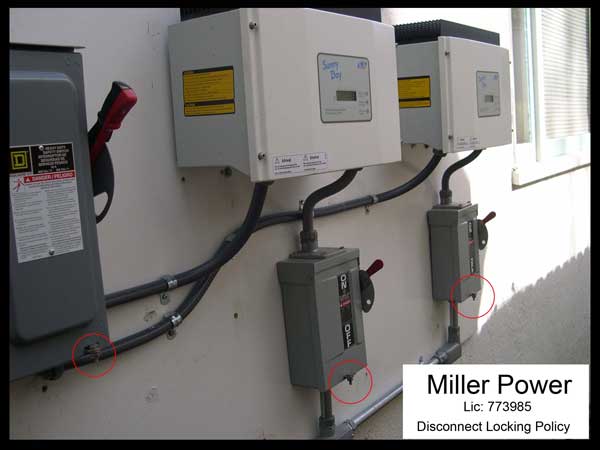 Click on photo above for larger image.
All disconnect covers must be locked in the closed position with a stainless bolt, flat washers, lock washer and nut. Hardware shall be wrench tightened. Locking hardware is illustrated inside circles, above.
The reason for this is that disconnects do not have "dead-fronts" inside. Children can pull handle down, defeating the cover interlock, open the disconnect and access live parts inside.
In addition, the Customer Completion Report will suggest to the customer that they can replace the locking bolt with a padlock if they deisre greater security.
All trainees, if you understand these concepts, please intial the section in your manual: "Read and understands disconnect locking policy." Continue to the next section in your manual.
Copyright 2008 Miller Power and Communications, all rights reserved